The Twinsburg Chamber of Commerce is one of the older organizations in our community. It was founded in 1921 with 12 members, and it set forth to establish a business climate with emphasis on ethics.  Today, we are proud to report that our Chamber membership has strengthened to almost more than 260 active members, and their support has allowed us to grow Chamber programming and provide more unique educational and networking opportunities in return.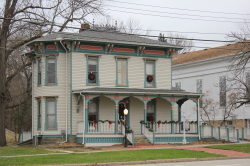 Twinsburg Chamber proudly serves the city of Twinsburg, Twinsburg Township, the Village of Reminderville and surrounding communities. These municipalities offer exceptional education, an award-winning library, breathtaking parks and recreation areas, and a wide array of businesses and industry that make Twinsburg a vibrant place to live, work and grow.
We extend our gratitude and appreciation to the Twinsburg community for the generous support we've received, and look forward to many more promising partnerships. We would not be successful without our community members, businesses and local leaders.